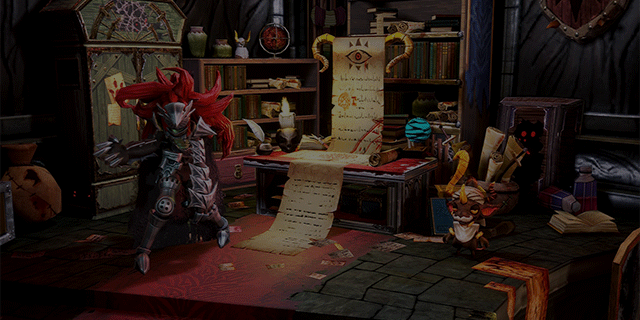 WIKTOR
Background: Wiktor is the ultimate killing machine who destroy everything in its path to revenge his mysterious creator.

Battle Style: Third Person Hack and Slash.

Tips: Wiktor is a well rounded attacker and tank. With his ability to regain hp from damaging the enemies, he is virtually indestructible in close combat. Just be careful not to get him surrounded.
Passively heal Wiktor with 13% damages from his normal attack.
Blood Carnivore
Enable Wiktor to charge and unleash blood wave forward, dealing 50~200% of his strength in damage.
Blood Slasher
Quickly slash all target enemies in front with STR(1.0, 1.3) + TAL(10, 20) damages and return 50% of that to WIktor's hp.
Blood Furry
DeadShock
Instantly lunge forward and stun all targets in the area upon impact, dealing STR(1.5~2.0)+TAL(13~20) damages to them.
Passively give 50~100% chance to prevent all status that lock Wiktor's movement.
Unstoppable
Slash front area with a giant blood cross, dealing huge damages to all enemies in its path.
BloodCross
Relive
Automatically return (30~50%) hp to Wiktor once when his hp is below 1.
DevouringEngine
Sacrifice 30-50% of Wiktor's HP to turn him into a super killing machine for (13~15) seconds, giving all normal attacks 100% life return and increase speed by 30~50%.
Impale
Quickly pierce target enemies in front, dealing 3x STR(0.6~0.8) + TAL(13~20) in effect dmg.
Ripping Claw
Deal 2x STR(0.7~1.0) + TAL(15~23) and drain target's sp equal to 10% of the damage.
Eternal Machine
Passively give wiktor LVL(40~100)% chance to block stun and knockout status.
Exhume
Instantly reduce target's TAL by LVL(20~30)% for 13 seconds and drain LVL(10~15)% of its Max MP.
Undying
Automatically gives immortal status and LVL(60-100)% damage boost when hp is below 1.
MurderousMachine
Temporary increase run speed by LVL(30~50)% and change normal attacks to effect damage.