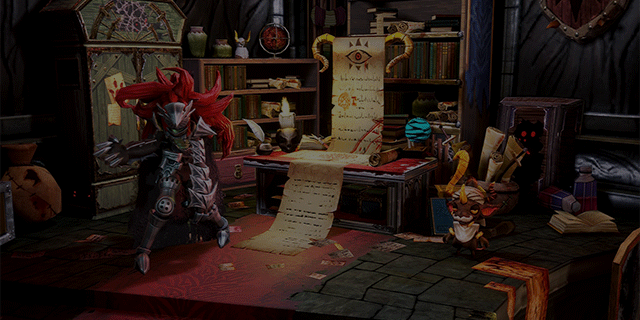 RODEOBOB
Background: Wiktor is the ultimate killing machine who destroy everything in its path to revenge his mysterious creator.

Battle Style: Third Person Hack and Slash.

Tips: Wiktor is a well rounded attacker and tank. With his ability to regain hp from damaging the enemies, he is virtually indestructible in close combat. Just be careful not to get him surrounded.
Smack enemy with his gun, stealing 10c from demon everytimes it hits.
CoinSmack
Enable RodeoBob to fire his gatling Gun by holding attack button.
GatlingGun
Plunder
Passively increases gold recieve from killing by 20%.
HorsePower
Causes SP to always regen at 200% rate in all state except exhasted.
Instantly restores LVL(40~100)% of max sp.
Reload
Drop dynamaites in a line, dealing TAL(80~130) in P.Dmg.
DropDynamite
Create 3 chillies that restore LVL(100-150) HP and LVL(30-45) MP to allies.
ElJalapeno
Throw out a lot of bombs for a lot of damage in wide area, dealing 12xTAL(60~90).
CasaDeLocos
ShortFuse
Reduce all skill cooldown by LVL(30~45)%.
HighwayRobbery
Send out a cactus that steals LVL(10~15)% copper with its every hit. (Max LVL(30~50)c)
BanditsWall
Construct a temporary wall that last 3 seconds and restore 10 sp.
ExplosiveKit
Plant an explosive on a target dealing TAL(80~120) to all but not target after 6 sec.
ElPiquin
Create 3 chillies that increases allies' p.dmg and speed by LVL(15~25)% for 6 sec.
BombShrapnel
Enable all explosive skills to reduce enemies' armor by 20~30% for 6 seconds.
CratesOfKaboom
Plant a pile of bombs dealing TAL(1300~2000) in wide area after 13 seconds.
VivaLaCactas
Summon an army of cactus, dealing 30x TAL(30~45) [fire] dmg to random enemies over 10 sec.