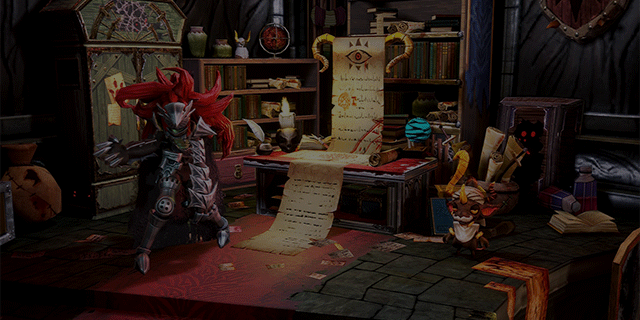 MIM
Background: The demonic brain who uses its supreme mind power to control others to do his vicious bidding. Its I.Q of 666 is considered the highest among all demons. Unfortunately the top three heads usually use it for personal arguments.

Battle Style: First Person Shooter

Tips:
Passively block and convert 10% m.dmg into MP.
MindGuard
Enable Mim scan the area with his charge action.
MindScan
Change n.attack to 6 homing missiles with STR(0.5~0.6) + TAL(20~30) [thunder] m.dmg.
PsychicPulse
SilentBurst
Deals TAL(40~60) [thunder] m.dmg and inflict silence status for (6~9) seconds.
Fires a psychic energy forward, dealing TAL(66~99) [water] m.dmg along its path.
PsychoWave
Instantly warp LVL(13~20)m along current movement direction.
Blink
MindBlast
Blast target area with mind power, Deals TAL(100~155) [light]/[thunder] m.dmg to target area with LVL(35~50)% chance to paralyze
BrainWash
Charm one enemy to Mim's team for LVL(23~30) seconds. (Half duration for demon.)
BrainLock
Silence target for LVL(4~6) seconds and deal TAL(50~75) [thunder] m.dmg.
IllusionaryOrb
Fires an invisible orb forward, dealing TAL(50~75) [water] m.dmg per sec along its path.
PsychicCharges
Creates a circling barrier for 13s, dealing TAL(25~40) [thunder] m.dmg every hit.
DoppleGanger
Creates a clone with LVL(33~50)% stat. and blink backward with invisibility
PsychicBarrier
Gives Mim and all his demon allies barrier that absorb TAL(200~300) dmg for 60 sec.
EnhancedCerebrum
Gives Mim's true sight and increase mind scan range by LVL(100~200)%.