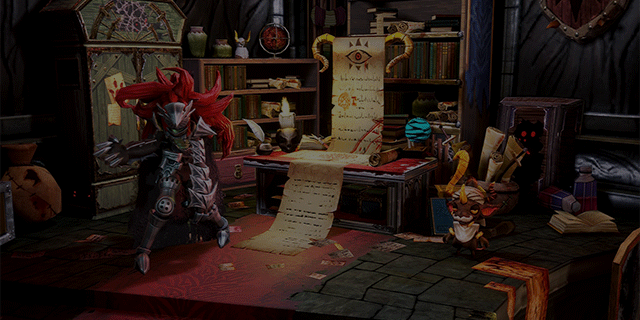 KILLJOY
Background: Killjoy is the evil clown who creates laughter and chaos to fulfill his own personal enjoyment. He is skilled at juggling knife, illusive magic and many trickery that serves to draw his enemies to their madness.

Battle Style: First Person Knife Shooter.

Tips: Kill joy is one of the easiest demon to play. His nimble movement and ranged attack made him perfect for harassing and even killing other demons who are alone.
Passively gives Killjoy additional 23% critical damage.
Jackpot
Enable Killjoy hurl a smoke bomb forward with his charge action, blinding both allies and enemies in the area. Causing their normal attack to temporary miss with 23% chance.
BlackJok
Give Killjoy a 'joker'status which adds 33% critical chance and 30~45 critical damage for 6 seconds.
JesterCard
Throw 5 homing knives at target, dealing STR(0.3~0.4) + TAL(15~25) [dark] dmg.
FoolSeeker
Creates a trap that deals TAL(60~90) [wind] dmg with LVL(40~60)% chance to disarm.
KnifeJuggle
LaughingComedia
Instantly hurl multiples knifes forward, Deal 3x STR(0.4~0.5) + TAL(20~30) critical [wind]/[dark] dmg to a wide frontal area.
CheatFate
Temporary turn killjoy into a dark shadow, giving him boost speed and LVL(30~50)% speed boost and evasion for 3 seconds.
JackInTheBox
Place a Jack-in-the-box at current location. Use it again to switch place with it and dealing TAL(100~150) [dark] dmg.
WildCard
Deals STR(0.5~0.6) + TAL(10~15) [wind] dmg and randomly inflict poison, cripple, stun or silence.
SwitchCrown
Throw a knive at target enemy inflicting 'switch'status, swaping Killjoy and target's location.
LifeGamble
Give Killjoy a chance to double or halve his current HP with LVL(50~75)% success.
LivingKnives
Passively enables Killjoy's knives to Automatically deal 5xTAL(5~10f) [wind]/[dark] dmg to target within 6m.
InvisibleClown
Make Killjoy invisible for 9~15 seconds.
UpsideDown
Trade Killjoy's current HP ratio with target (LVL(200~300)% Max.)