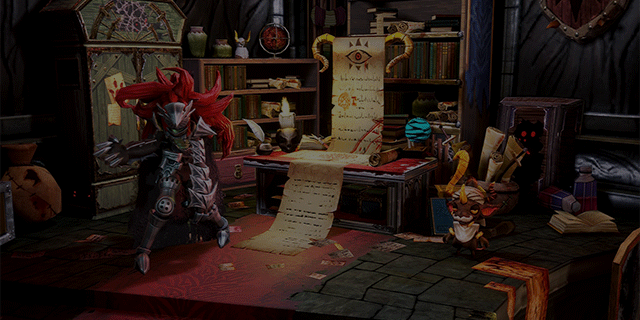 TROTH
Background: the death prophet who gives guidance to the lost souls. Using ancient reanimation spells, he commands a fearsome legion of undead who has been misled to join his army.

Battle Style: Third-Person Caster

Tips: Troth is great for support role due to his healing and defensive abilities. His summon spells can swarm your enemy and keep them busy while you stay out of combat.
Enable Troth to order all his summons to attack or move to designated target with his charging action.
SummonerMark
Give Troth's normal attack ability to prevent target from SP regen for 1 sec.
DeathScarab
SummonMastery
Passively adds 6% of all Troth stats to his summons.
ForbiddenSanctuary
Deals [light] m.dmg to enemies or heals allies for TAL(100~150) at target area.
Summon 3-6 slave mummies with [earth] dmg at target location.
SummonWalker
Summon 2-4 watcher mummies with [light] m.dmg at target location.
SummonWatcher
Summon gravyard that interrupt movements and deal 5xTal(60~90) [earth] m.dmg.
DeadShackle
RoyalTomb
Summon a Pharaoh's tomb with 2000-3000 hp that absorb all damage from near allies.
DoomObelisk
Summon an obelisk that deals [dark] dmg to random enemy demon.
SearingLight
Deals 2xTAL(40~60) [light] m.dmg to target and destroy target's SP equal to 25 of that amount.
UnholyStrength
Enlarge target ally and add STR and VIT by LVL(40~60) (double for summon) for 130s.
SongOfBastet
Increase STR and DEX by (35~50)% to demon allies and (50~100)% to summons for 60s
Entomb
Trap enemy in time, rendering it immobilized and immune to all dmg for LVL(6~9)s.
Resurrection
Cast status that auto-revive and return 40~60% HP to target ally within 180 seconds.
SummonImmortal
Summon an immortal with LVL(4000~6400) MHP, dealing [earth] dmg with cripple effect.